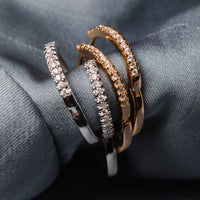 Ingrid Diamond Hoop Earrings, 18k White Gold
Ultimate Diamond Hoop Earrings, made to last a lifetime: The handmade hoop earring Ingrid, in 18k recycled white gold (also available in 18k gold). Set with thirteen brilliant-cut, carefully selected, natural diamonds, each one handpicked by us. Total carat weight per pair: 0.1 carat (0.05 ct / per earring). Sold as a pair!
With these "never take them off" hoops Ebba wanted to create a classic yet cool, minimalist iconic piece, made to be worn every day, always. Diamond earrings you'll love, wear and use forever - and can pass down to the next generation. 
The Ingrid diamond creole hoops are perfectly sized to fit all ears beautifully, and to emphasize the beautiful sparkle of the natural diamonds. 
Material: 18k recycled white gold
Fit / Measurement: 1.00 cm diameter
Carat: 0.1 ct (0.05 ct / per earring)
Stone: Brilliant cut natural diamonds
Quality: G / Top Wesselton 
Clarity: Si 1-2

Delivered in handmade box with gold print and silk ribbon, from Ebba von Sydow Jewelry. To make your own personalized box with gold embossment in capital letters, choose between 4 colors: Sand, white, navy or pink! No returns on personalized box. 

Our jewelry collection is made with a genuine pride and passion for craftsmanship and quality, in Ramat Gan in Israel. The diamonds are rare white, and carefully selected and hand-picked by our team of professionals. The diamonds are 100% conflict free and certified by GIA, the Gemological Institute of America, one of the world's leading independent certification programs that ensure quality and puts high demands on shape, color, cut, proportions, symmetry, dimensions and carats. Certificates are not included with each separate diamond.
Take good care of your jewelry, wear it often and with care - and most important, wear it to remind you: Follow Your Heart!
Handcrafted and unique, in 18K gold:
"Never take them off-Earrings"
Named after Ebba's grandmother - an example of the Scandinavian minimalist design we love. Our softly bowl-shaped, classic Alma earrings have a total carat weight / pair of 0.2 carat. Available in gold and white gold.
BUY NOW